You've got a killer idea for a new product, but aren't sure if it's viable, and you'd really like to test it out without wasting a lot of resources. How can you quickly and inexpensively come up with a prototype? The use of a Design Sprint could be one possible solution.
Fast track product innovation process.
We help companies with their innovation quests with the customer in mind. Putting people in a central place enables many businesses to come up with innovative ideas and improvements to current products and services.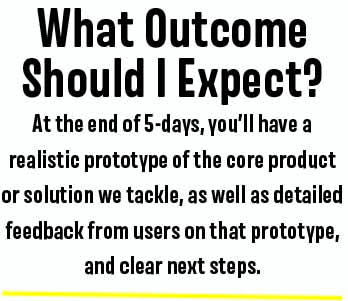 We design workshops to solve challenges, problems and make decisions. Workshops can be tailored around new product development, strategies, brainstorming, etc. We are the expert on the process and you are the expert on the topic.
In our 'hackathon' workshop, you can create, prototype and test ideas in just one workweek.

Here are your 5 steps to bold new development:
• Understand the challenge, bring everyone to a common denominator and then focus.
• Develop solutions together.
• Make a decision and define the prototype.
• Develop a realistic prototype.
• Validate the concept of the prototype with real users.
Your benefits:
• You reduce the risk of a bad investment in long development processes.
• You take your team to a common denominator.
• You save all the Powerpoint presentations and endless meetings to set up budgets.


---
WORKSHOPS

You have the challenge – we have the process.
We adjust workshops to fit certain challenges. 2-5 day sessions full of Design Thinking and Design Sprint elements are the result.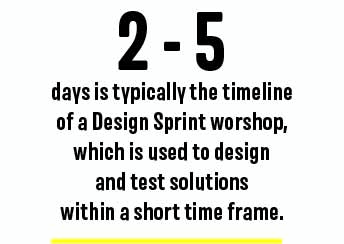 • Design sprint workshop – 5 days 'hackathon' to align, decide, test & go.

For Solving Big Problems and Testing New Ideas. The process is composed of a series of timed exercises which take a mixed team of experts and designers from initial expert interviews and mapping out challenges (on Monday), through designing a realistic prototype (on Thursday), all the way to testing it with real users (on Friday).

Using the Google-Venture Method, you will get a tested prototype in just five days. We will follow the classic Sprint model outlined in Jake Knapp's book, but incorporate a few of the updates published by AJ&Smart in Berlin.

What does a Sprint look like?
AA Sprint is a 1-week hackathon which includes Design Thinking exercises to ensure alignment and human-centred design. It also includes a whole day of user testing with the prototype, to accelerate learning.

What Outcome Should I Expect?
At the end of 5-days, you'll have a realistic prototype of the core product or solution we tackle, as well as detailed feedback from users on that prototype, and clear next steps.
• Strategy sprint

A strategy sprint is designed sprint adapted to the realm of business strategy. We will design a new strategic plan together, then prototype key digital asset that will help us test the strategy with customers or internal stakeholders.
• Roadmapping sprint

Following the lightning decision jam (LDJ) methodology from AJ&Smart with some modifications, their Roadmapping Sprint is a single day strategic workshop that helps a navigate competing priorities.
• Growth sprint

A Growth Sprint is a 3-day workshop which combines the methodologies of Hacking Growth and Traction with the principles of the Design Sprint in the order to identify the most promising growth strategies for the current phase of your project.
• Branding sprint

In this 1-day workshop, we will help you create a logo and branding guide. Together with your team we will identify the brand values, the brand audience, the brand niche and design a logo, and a branding guideline for your company.


---
studio@lieungh.com | Stockholm | +467 7252 6678 |